Bluenery was not conceived as a product brand, but as a community of like-minded spirits that want to act on their love for the oceans. We are not a fast consumer fashion brand but we aim to change the  attitude toward clothing in a sustainable way. The Bluenery family helps to change these attitudes by sharing ideas and creating awareness of our values: exploration, freedom and harmony.
Each member of our family shares our love of the aquatic life, the concern for the state of our oceans and the desire for a more sustainable lifestyle.
Together, we want to tell a story of another life, a life of exploration and adventure with respect for our environment, a story that appeals to a global audience yearning for a more peaceful and harmonious way of life, away from the pressures of instant gratification and massive consumption.
Discover our family in the coming weeks on the official social networks Bluenery.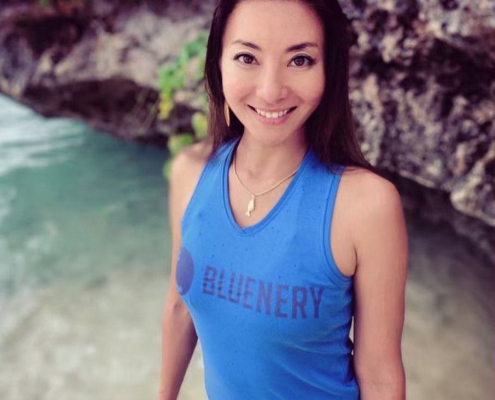 TOMOKA FUKUDA
Tomoka is a Japanese freediver. She started freediving in 2010 and marvellously won the gold medal at AIDA Team World Championship in Nice in 2012. She recently broke her depth record in CWT with an impressive 100m.
Bluenery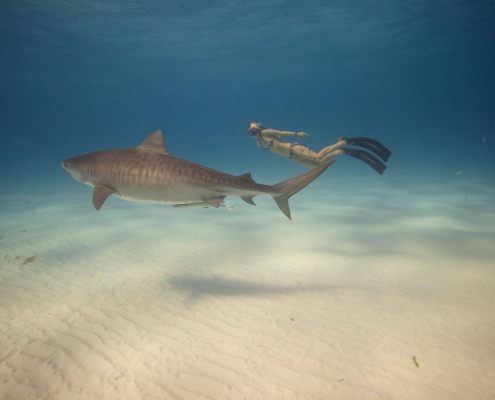 OCEAN RAMSEY
From a young age she had a passion for the ocean, her namesake. She studied marine biology, behavioural sciences and animal behaviour, while also becoming a scuba-diving and freediving professional early on.
She is a dive tourism operator and operates One Ocean Diving, LLC in Hawaii. She gained international media attention for free diving with sharks, including great white sharks, to bring attention to shark conservation.
Bluenery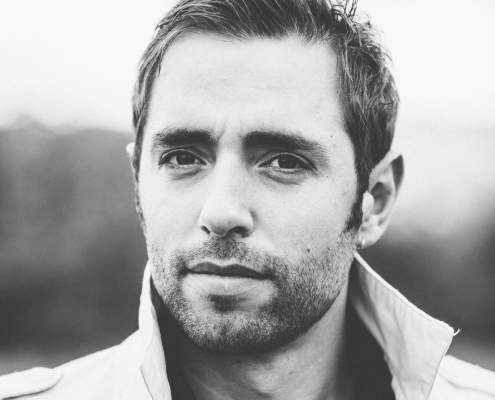 ARTHUR GUERIN BOERI
Arthur is a French champion of freediving and specialist in dynamic freediving, of which he is world champion in 2013, 2015 and 2016. Since his discovery of freediving in 2010, he has won 4 world records and 5 world titles. He is the most successful Frenchman in the history of this sport.
Today, Arthur is dedicated to the democratization of the sport he loves so much, by producing films, with his team that accompanies him since his debut.
Bluenery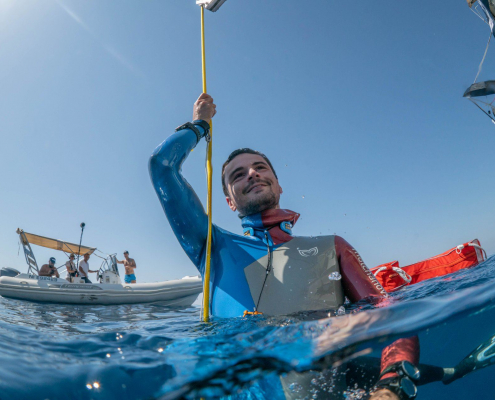 ARNAUD JERALD
1Rising star of freediving, Arnaud starts the competition in 2017. He wins the title of champion of France and a bronze medal at the European Championships
That same year, he reached the -100m monopalme for the first time in the harbor of Villefranche-sur-Mer, on July 25th.
On May 20, 2019, Arnaud obtained the world record for freediving in constant weight bi-fins down to 108 meters deep in Sharm el-Sheikh (Egypt) at the Russian Championships.
Bluenery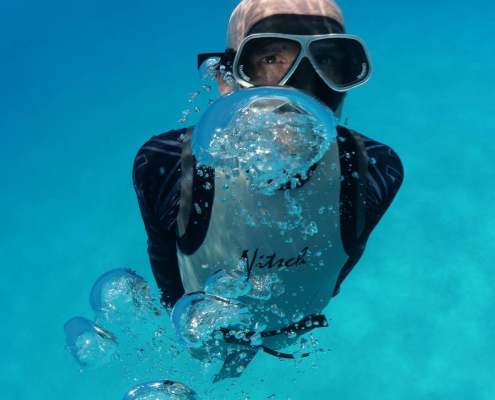 HERBERT NITSCH
Austrian freediver, Herbert has held world records in all of the eight freediving disciplines recognised by AIDA International. He is the current freediving world record champion and "the deepest man on earth". This title was given to him when he set a world record in the "No Limits" discipline at the depth of 214 meters. To date, he has achieved 33 official World Records across all freediving disciplines, and one world record in the traditional Greek discipline of Skandalopetra 107m. He surpassed his own No Limits depth with a dive in June 2012 to 253.2 meters.
Bluenery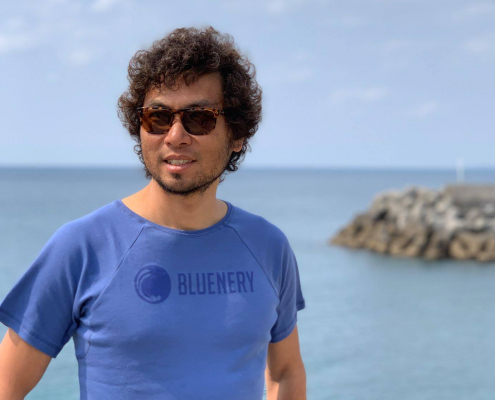 SHINOMIYA RYUZO
Professional Japanese Freediver, he is well known as the first Asian who reached 100m. He is sharing his love for the freediving with his own diving school "Apnea Works".
Bluenery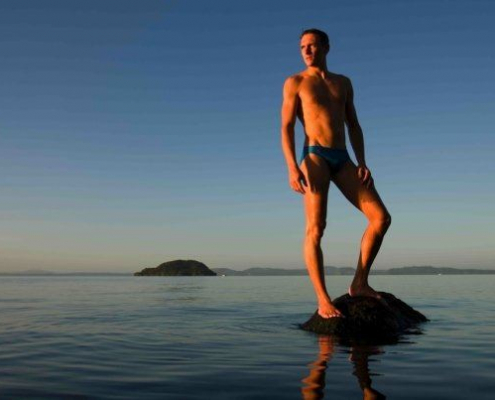 WILLIAM TRUBRIDGE
15-time world record holder and current freediving world champion.
In 2005 William was the first freediver to dive at Dean's Blue Hole, now recognised as the world's premier freediving venue and site of the annual Vertical Blue event.
He broke his first world record in the discipline of CNF (Constant Weight No Fins) in April 2007, diving to 81 m. In 2010, he became the first human to descend to 100 m. In July 2016 he furthered this record to 102 m as part of the Steinlager "Born to Defy" project, which was broadcast live to New Zealand television.
William also holds the world record in Free Immersion, with 124 m, set at Vertical Blue in May 2016.
Bluenery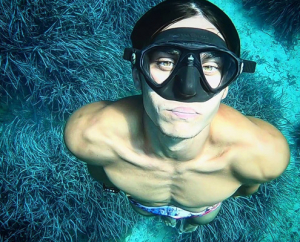 ANTONIO MOGAVERO
As the youngest athlete to have reached -106m with monofin (CWT) at the age of 21, Antonio Mogavero is an Italian freediver who started competing in 2011.Since, he has joined the Italy freediving national team, achieved Aida and CMAS national record holder, won bronze medal at the World Championship 2019 and became freediving instructor.Versatile athlete in both Indoor and Outdoor Freediving, he stands out in the community becoming a partner and top competitor for the Y-40® The Deep Joy team.
Bluenery